EPB generates power for the first time.
For the first time in our 80-year history, EPB began generating electric power this year. Solar Share, Chattanooga's first community solare projects, includes 4,408 solar panels producing 1.4 megawatts of renewable energy - enough to meet the annual power needs of roughly 130 average households.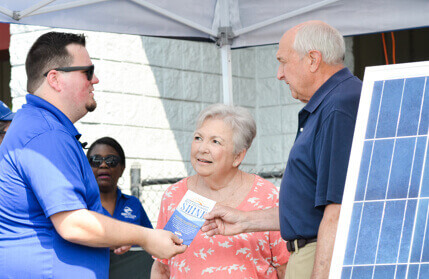 In fact, Solar Share set two distinct performance records this year, one on June 28, 2017 when the system generated its maximum possible daily output of 8,500 kWh. A second record was set on April 10, 2018 when the system achieved its maximum instantaneous output of 1,020 kWh, meaning that all 17 of Solar Share's 60 kW inverters were producing their full load potential at the same time.
Launched in July, Solar Share offers customers an easy, affordable way go solar without the hassle of installing and maintaining their own panels. So far, a total of 2,225 solar panels have been licensed to 419 residential and commercial customers in exchange for green power generation credits on their monthly electric bills. Now that Solar Share has proven to operate flawlessly at full capacity, efforts are underway to continue engaging the community in supporting renewable power generation.